Expert guidance for setup, strategy, and more
Landing page
Ability to add available social media landing links linked to your product and attach redirects to the landing page. It can promote your product's sales and complete the sales process effectively.
Integration
Connecting with Dynamic 365 CRM software allows EXPA.AI to access customer data in real time. Connect EXPA.AI to your whole tech stack and use all of your customer data in real time.
Data integrity and performance
Verify data sources, evaluate performance, make sure segmentation, automations, and reporting best practices.
24/7 product expertise/support
Experts from EXPA.AI hold a meeting to discuss challenging product error and offer helpful support by promptly resolving them.
Deliverability
Customer-requested Bot flow operations can be done precisely in a short amount of time and provided swiftly and without delay.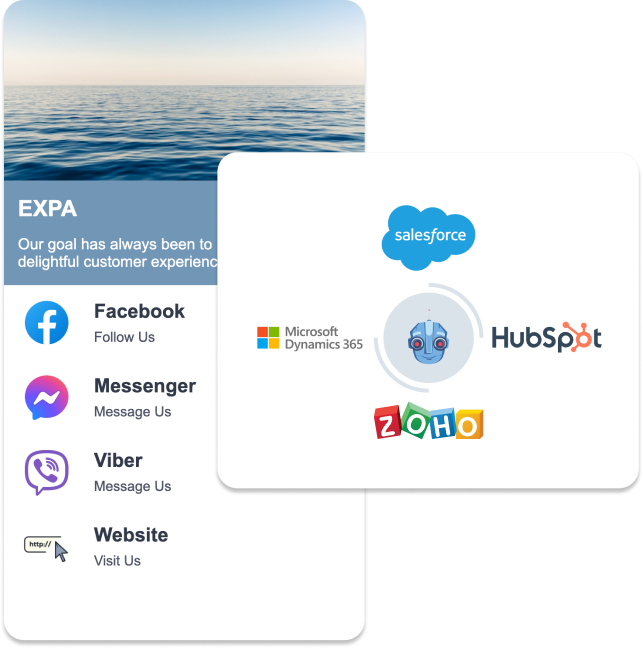 Get ongoing assistance from a specialized customer success manager
Your customer success manager is prepared to share insight and advice to help strategic choices, identify opportunities, and produce excellent results.
Tackle ambitious goals
Create a unique success strategy that enhances your owned marketing approach and sets best practices for omnichannel bot platform.
Improve customer interactions
Identify and address friction with unique automations that fuel fast, personalized outreach.
Optimize marketing strategies
Get from experts how testing, customization, and predictive analytics may increase click and conversion rates.
Improve your engagement model
Develop a process calendar and segmentation techniques to help optimize deliverability and income per recipient.
Audit your tech stack
Align on opportunities to collect customer information and promote new experiences through referrals, loyalty programs, social proof, and more.